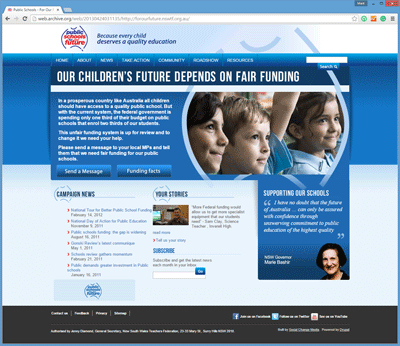 Social Change Media has the tools, experience and marketing know-how to produce successful online campaigns.
We have extensive experience in delivering online campaign solutions.
SCM Web Consultant Mark McGrath was one of the early pioneers of online campaigning in Australia, developing many online campaign solutions for unions and other non-profit organisations from 2000 onwards.
We not only have the technical expertise and product set to produce effective online campaigns but the know-how in crafting and marketing campaign content that will mobilise your supporters.
Options
We have 2 options available for the production and hosting of an online campaign website.
1. Custom campaign website
We custom design and build a campaign website to exactly meet all of your specific requirements. We select the required tools from our campaign toolkit and customise the functionality of these to meet your needs.
Custom campaign website prices start from $8,000.00 ex-GST.
Please contact us if you would like to discuss us developing a custom campaign website for you.
2. Standard campaign website
If you are looking for a quick, low-cost solution to your online campaign, then our online campaigns solution can provide virtually everything you will need "out of the box" at an affordable price.
Our campaigns solution has all the features required to run a successful online campaign including:
Online campaign action forms (eg Send a Message, Sign the Petition, Donate, Join the Campaign, Letter to the Editor).
Custom configured submission forms for public inquiries.
Multi-step wizard-style forms
CC your local MP (State or Federal).
Campaign thermometer to display target and progress of your campaign.
Campaign supporters display ("social proof").
Segmentation and Electronic Direct Mail (EDM) to your campaign supporters.
Share with your web address book contacts.
Social media integration.
More information:
> View demonstration campaign website