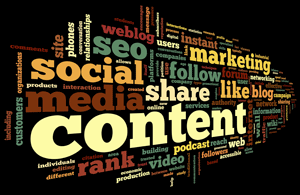 By Mark McGrath, August 2015.
There's been a bit of buzz around content marketing in recent times. So I thought it would be worthwhile unpacking the concept and exploring what it is and how to do it.
The logic behind content marketing
Put simply, content marketing is the publishing of content online in order to attract more users to your website.
The key point here is that for the content to attract more users, the content has to be of genuine value to them. Publishing sales material on your website is not content marketing. Getting an overseas contractor to publish dozens of poorly written and unoriginal articles at low cost is not (good) content marketing.
The content you publish in content marketing has to be of enough value for your target audience to read it, share it with friends, link to it or come back to it again.
The logic here is that valuable content, through sharing on social media, personal referrals, back-linking and consequent increased search engine ranking, will attract more traffic to this content and a significant proportion of this traffic will spill-over onto your other web pages, with some of this traffic converting into your website goals such as sales, service sign-ups, product enquiries and quote requests.
It's actually an old idea repurposed
Content marketing has been around a long time. Marketers a long time ago realised you could leverage sales from providing well-targeted and quality content. Recipes printed on the back of cake mixes is content marketing. The Michelin Guide that was first produced over 100 years ago, and provides reviews of hotels and restaurants for the car traveller is content marketing. 
So content marketing is an old idea that 's been repurposed for the web. What we can take from this history is that we know it has worked in other mediums so we should be confident it will work as well online.
What's driving it?
The need for content marketing has been driven by two things:
Search and the dominance of Google.
Social media.
Google counts the number of links (or link referrals as they are also known) to a website's content (and assesses the quality of these links) as part of its algorithm to determine where a website should rank in search results for particular sets of keywords.
Knowing this as a major factor in determining search rankings means that generating link referrals becomes an important objective. Further, knowing that Google's search indexing system is smart enough to detect fake or low-quality link referrals (eg web pages under other domains created purely for the purpose of linking to the primary website) means that the smart approach here is to create quality content that your users will find useful and link to.
The same case applies to social media. Given the ubiquity of social media and its increasing role as a first point of call for people sourcing news and information, publishing content that is good enough to share on social media becomes an important objective.
...if you invest effort and expertise in your content marketing, then you will be rewarded with a return of an increased audience.
Because search engine ranking is an important objective here, content marketing is usually treated as a component of a wider Search Engine Optimisation (SEO) strategy.
A 7 step content marketing plan
The following is a broad content marketing plan. A lot of what is proposed here is easier said than done and organisations would probably benefit from an experienced consultant to help them implement a content marketing plan such as this. But even if you attempt all of this on your own, you are still more likely to achieve better results than having no content marketing plan at all.
Step 1: Define your users
Before you can decide what content to publish for your content marketing strategy you need to gain a good understanding of your website users are and their interests.
Think about who your users are. How do you define them in terms of location, age, sex, education, income? What are their interests?
Saying they're the general public is not an acceptable answer; it gives you nothing to work from as you can't provide content to service the whole population.
Knowing what your organisation does gives you a good starting point. For example, if I was developing a content marketing strategy for a local council then, my target audience would be residents in that local government area. But I could break this group down further into residents who are:
wanting to build a new home or extend their existing home
intending to clear some trees from their property
interested in caring for their local environment
concerned about bushfire risks
wanting to know more about recycling
experiencing a problem with a council service
The better you can define your users the better you will be able to service their interests with good content marketing.
Step 2: Select content ideas that match target audience interests
Once you have defined your target audiences you then need to think about what content they will find attractive. Put yourself in their shoes and ask yourself the question, "what would they find genuinely useful?"
Or better still, actually ask them this. Contact some members of your target audience and ask them what they find difficult or where they would like help in areas that lay within your field of expertise. Or better still again, if you can afford the time and effort, run a survey of your target audience to find the content ideas they would find most useful.
They key here is to find the intersection between your target audience's interests and your field of expertise.
If your content ideas can help solve problems of your target audience then you are on the right track to creating marketable content.
This article itself is an example of content marketing. In talking to a few of my clients recently, I was asked the question, "what's content marketing?" So I took this as an indicator that an article on content would be useful to my target audience.
Look for original opportunities. Try and avoid repeating content that is already out there in many locations. Or if it is a topic that has been extensively covered elsewhere, try an angle that is customised to your target audience's particular needs and interests.
I would strongly recommend developing a content publishing schedule and committing to it. It needs to be realistic though. Decide how many articles you can publish per year. Then publish them at regular intervals.
It's also useful to let your users know about this so you can manage their expectations. If you can only manage one article per quarter then say so publicly and make each article the best it can be. But don't over-commit yourself and compromise the quality of your content just for the sake of publishing more frequently.  It's quality (and consistency) over quantity.
Step 3: Author content
Authoring web content is easy to do but hard to do well. You need to author content in a way that is:
Try to write your content in a warm and friendly style, as if you were having a one to one chat with a member of your target audience. A dry, theoretical article full of complex jargon is unlikely to be found useful by your target audience. If you are unsure about how readable your text is, then try it out on a readability tool such as: http://read-able.com/
Be economical with your words and make them scannable.
It's harder work to read online than in print plus web users have notoriously short attention spans, so try to keep your content as lean and to the point as possible. A useful guideline here is that web articles should be about 50% of the length of an equivalent print article.
Research shows that web users scan text on a page to find what they want, then read that, rather than read the whole article from whoa to go. So this means you must make your text scannable. You do this by breaking up your text with headings, subheadings, bold text, pull quotes and breakout boxes.
Make the article useful as possible. By this I mean make it something your target audience can take away and apply to solve a problem or guide them in undertaking an activity or project. Step by step instructions, templates or real life examples are ways to achieve this.
Try and add value to your content. Wherever possible and where appropriate, consider including images, attachments and referrals to other relevant content. The key here is quality. Don't include this type of content merely for the sake of it; only include it if it adds value to the user's experience.
Be honest with yourself, if you can't write copy of a standard that you would read in a newspaper or magazine, then consider investing in the services of a professional journalist or editor.
Your overall goal here is to try and become the expert in your particular field, rather than trying to be all things to all people. Find a niche and try to do it well.
Your overall goal here is to try and become the expert in your particular field, rather than trying to be all things to all people. Find a niche and try to do it well.
Step 4: Test and refine
Road-test your content with some of your target audience members or trusted friends, seeking their feedback and addressing any issues they have raised with the content.
If you are going to go this way then make sure that who you use to review your content doesn't know your organisation too well. By this, I mean avoid using people you would class as having inside information about your organisation, their products and services. Otherwise, the feedback will not be realistic and potentially cause more harm than good.
Alternatively, you might like to consider paying a dedicated web service to source feedback on your content. Feedback Army and User Voice are two well-established providers of this service.
Step 5: Publish
Not just to your website, but also to your social media channels, such as Facebook, Google +, Twitter and LinkedIn, as well as offering it to any other websites that you think might find your article valuable. 
If you are serious about content marketing and are willing to invest money in the exercise, rather than just your own time creating content, then you might also like to consider promoting your content via dedicated content marketing websites such as Outbrain or Taboola. These are content discovery sites that aim to match users interests with quality content. Content marketers pay a fee for their content to be discovered by users of these sites.
Advertising on Google Adwords is also worthwhile but make sure you configure your keywords as tightly as possible to match your content and users, rather than using popular keywords that could apply to lots of other content. Otherwise, it's money wasted.
Step 6: Seek feedback and process it
Invite (and publish) comments on your content and be prepared to have a conversation with your commenters. Try to publish even critical comments, if you think they are fair constructive, as they represent an opportunity to engage your audience and clarify any misconstrued points.
Take on board the feedback and incorporate it into either, improvements to your published content or use it for new content ideas for the future.
Step 7: Repeat all of the above
For your content marketing to work, you need to keep feeding your audience with fresh content. Otherwise, they won't come back.
So the key here is to not stand still but to keep moving, using feedback from your existing content to create fresh content or improve what you published previously. Reassess your target audience members and what their interests are, keep developing new content ideas, seeking feedback, testing, reviewing and refining as you go.
All of this is not easy and takes serious effort and some expertise. But if you invest effort and expertise in your content marketing, then you will be rewarded with a return of an increased audience to your website.
Mark McGrath is a Web Consultant and Director of Social Change Media.